Diversity Training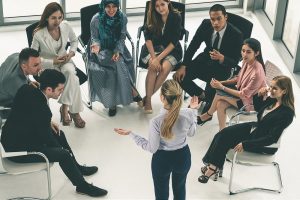 Many businesses and organizations have diversity committees. However, the function and purpose of these committees are often unclear, which often leaves both minorities and non-minorities perplexed. In fact, employees often feel as if they are pawns used by senior leadership to check a box that says they have a diversity committee, which does little to address actual prejudice and discrimination in the workplace.
Our Approach to Diversity Training
Companies partner with Kolman Law to provide diversity training that educates employees about:
The history of racial discrimination in our country.
How it feels to be a minority.
How minorities view non-minorities and vice versa.
Why there is mistrust between minorities and non-minorities.
The goal behind this approach to diversity training is to create mutual understanding and empathy. Much prejudice and dissension are the result of ignorance – not ignorance of historical facts, but how these facts have impacted the workplace and society as a whole. Progress can only be made when there is a better understanding of different perspectives and the reasons behind those perspectives.
The unfortunate reality is that diversity training should not be the responsibility of businesses and organizations. Overcoming prejudice and discrimination is a societal issue that, ideally, should be taught in schools. More than simply being a more conscientious, empathetic employee, this is about citizenship. When prejudice and discrimination inevitably make their way into the workplace, they can be very damaging to both individuals and the entire organization.
One of the biggest challenges is that discrimination is not always overt. There may not be a violation of the law based on what is seen and heard. Even subtle prejudices, however, can cause serious problems and affect the company culture. Victims can see discrimination. They can sense it. Discrimination only seems subtle because understanding and empathy are lacking.
Diversity training from Kolman Law is customized for each company to provide actual substance to your diversity committee. When you make a concerted effort to educate employees and increase understanding of different perspectives, the value of diversity training will last far beyond the training itself
If you suspect your employer is planning to terminate you or stop you from moving into a more prominent role, you can maximize your leverage by hiring an employment attorney while you're still employed. Contact us today to schedule a consultation.