Medical Malpractice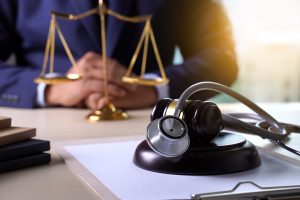 Some forms of medical malpractice are obvious. If a surgeon leaves a sponge or medical instrument inside the patient or operates on the wrong area of the body, the case for medical malpractice is clear. In most cases, however, the link between a very serious injury or painful condition and medical malpractice is not obvious. For example, suppose you have surgery to remove your gall bladder and the surgeon nicks your small intestine. This could cause the intestine to become infected, resulting in significant pain and possibly another medical procedure. In fact, sepsis, which occurs when an infection triggers inflammation throughout the body, is the
leading cause of death in hospitals
in the U.S. These issues can only be uncovered through an investigation by a skilled medical malpractice attorney, which includes the review of your records by a medical expert.
What Is Medical Malpractice?
Medical malpractice occurs when a patient experiences severe pain and suffering or permanent injury caused by the negligence, errors, or omissions in diagnosis, treatment, or care. For a medical malpractice claim to be valid, there must be a violation of the standard of care, as well as significant injury and specific damages caused by the negligence of a hospital, doctor, or healthcare provider. Damages refer to disability, lost income and earning capacity, pain and suffering, mental anguish, and high associated medical costs. Five of the most common types of medical malpractice are misdiagnosis, medication errors (incorrect medication or dosage, dangerous combination of drugs, etc.), surgical errors, childbirth injuries to infants, and failure to recommend adequate treatment.
Why You Should Speak with a Medical Malpractice Attorney
Your attorney can get your medical records and have them reviewed by a medical expert to determine the seriousness of the injury and whether the standard of care has been violated. Without a persistent attorney working on your behalf, it can be difficult to obtain the relevant records, which works in favor of the doctor or hospital. Many victims of medical malpractice choose not to contact an attorney and seek compensation for their suffering. Reasons include:
• The victim thinks pain is part of the process or an accepted risk related to their medical care or procedure.
• The victim does not know an error was made, perhaps because the doctor didn't tell them.
• The victim signed a waiver so they assume no attorney will accept their case.
• The victim thinks it is their fault or they did something wrong.
By the time the victim realizes what happened, the statue of limitations has expired, and the victim is unable to pursue damages. In many cases, a medical malpractice victim will have suffered immens and is forced to deal with long-term pain or a permanent injury.
If you've suffered significant pain and damages and want to find out if medical malpractice was the cause, contact us today to schedule a consultation.